MIG or Metal inert gas welding is a particularly tricky process that significantly impacts the eyes. Seeing this process directly with your own eyes can have the most damaging effects on the eyes. That is why you must buy the best welding helmet for MIG to protect your face from sparks and protect your eyes from any damage.
When you go to the market to buy a welding mask, you will be confused between insufficient information and multiple choices.
To make the same purchasing process more comfortable for you, we have selected a list of nine best welding helmets for MIG.
Best Welding Helmet for MIG 2021 – A Quick Comparison
Image
Product
Characteristics
Price
Lincoln Electric K3034-4 VIKING 3350
✔ï¸PREMIUM OPTICS

✔ï¸EXTRA LARGE LENSE

✔ï¸SUPERIOR COMFORT

Check Price
3M SPEEDGLASS 9100
✔ï¸COMFORTABLE HEADGEAR

✔ï¸BROAD VIEWING AREA

✔ï¸EXTRA LARG LENSE

Check Price
Miller 282000
✔ï¸3 ARC SENSORS

✔ï¸3 OPERATING MODES

✔ï¸LARGE PUSH BUTTONS
Check Price
Esab SENTINEL A50
✔ï¸STYLISH SHELL DESIGN

✔ï¸EXXREME COMFORT & BALANCE

✔ï¸EXCELLENT CLARITY
Check Price
Jackson Safety
✔ï¸SHADE VARIABILITY

✔ï¸HIGH QULAITY AUTO DARK

✔ï¸BROAD VIEW PORT
Check Price
Jackson Safety HSL
✔ï¸PROFESSIONAL GRADE HELMET

✔ï¸GREAT CLARITY LENSE

✔ï¸ADJUSTABLE HEADGEAR

Check Price
Optrel VegaView 2.5
✔ï¸SHADE LEVELS FROM 8 TO 12

✔ï¸2.5 IN LIGHT STATE

✔ï¸GREAT GRIND MODE

Check Price
YESWELDER True color
✔ï¸GREAT FOR TIG MIG

✔ï¸CHEATER LENSE

✔ï¸BETTER CLARITY
Check Price
DEKOPRO Welding-Helmet
✔ï¸ULTIMATE EYE PROTECTION

✔ï¸CLEAN COMFORTABLE VIEW

Check Price
The Best Welding Helmet for MIG 2021 with Reviews
1. Lincoln Viking 3350 Auto darkening Welding Helmet – Best welding helmet for the money
Introduced by the well-known brand Lincoln Electric, this welding helmet is magnificent to look at and also keeps you safe. The four C technology in it shows you the welding process very clearly and, at the same time, protects your eyes from the dangerous light emitted during the welding process.

OPTICAL CLARITY
The Viking 3350 helmet offered by Lincoln Electric gives you a 1/1/1/1 rating of optical clarity, which means you won't have any discomfort or difficulty seeing during the welding process. Because of this quality, you will not have any problem looking through the shield during the MIG welding process.
COMFORTIBILTY
The length of the lens is 12.5 square inches, and it also has the effect of auto-darkening, which will remove any obstacle in your way and make the MIG welding process more comfortable to be seen from it.
Many more things were added to the VIKING 3350 welding helmet of Lincoln Electric to provide comfort and convenience. The weight of the 6X headgear mounted in this helmet is beautifully balanced so that it fits snugly on the user's head, and nothing goes wrong, and he uses it comfortably.
GRINDE MODE
Moreover, it adds to the user's comfort by making him feel fit. It also includes a connector that allows you to attach the helmet to a tight cap. You also have the option to switch between simple grinding and welding with a simple button. However, some consumers complain that the helmet sometimes loosens during work, which can be painful. It is the best welding helmet for MIG.
The Lincoln Electric Viking 3350 obligates all the best features you need for a good MIG welding job, and it's one of our top favourites. Undoubtedly, VIKING 3350 is the best inexpensive auto-darkening helmet for MIG welding.
2. 3M SPEEDGLASS 9100 – Best Welding helmet for beginners
Whether you rehearsal TIG welding as a hobbyist or professional, the 3M Speed Glass 9100 is the perfect solution for everyone. It is highly adjustable with two crown straps to distribute weight evenly for better stability. An efficient ratchet system ensures that the helmet fits your head perfectly. This helmet has quick adjustments corresponding to 9 helmet angles. The front headband is bold, also to distribute the pressure.
VIWEING AREA
The 3M SpeedGlass 9100 MIG has a 1.8 x 3.7-inch viewing lens for better and broader visibility while welding for an uninterrupted view. You can choose from 5-13 dark shades and three light shades. The lens has three sensors that automatically activate the black filter as soon as MIG welding starts. This transfer only takes 0.1 ms, which is very fast. It prevents you from pulling the shield up and down while working.
EXHAUST FEATURE
Once the MIG welding process is complete, it immediately changes to a lighter shade. It also features exhaust paths to reduce fog or moisture in the helmet, which can obstruct your view. The predictable lifespan is 28,000 hours, which styles it reasonably durable.
DURABILITY
One of the weights this model yields is the weight, which can be a bit rough for some people. All in all, we would endorse the 3M Speed ​​Glass 9100 for its durability and safety features, making it one of the best welding helmets for MIG welding. Undoubtedly,3M SpeedGlass is the best inexpensive helmet for MIG welding.
The very up-to-date Miller Digital Performance welding helmet is a classy addition. It is a versatile model that can be used for cutting, grinding, and welding and features three different modes.
MULTIPLE MODES
It has a delay of 0.1 to 1 second and control over the sensitivity for perfect precision. This mode is much faster than most models on the market and helps improve performance. Methods can be changed using digital rules that make the helmet extremely easy to use.
VIEWEING AREA
However, it has a 7.22-square-inch viewing area that is wide enough for uninterrupted visibility during MIG welding. It also has three arc sensors that help to switch the lens during and after welding automatically.
ADJUSTABILITY
The Miller Digital Performance welding helmet is freely adjustable and fits snugly around your head for comfortable welding. Uses an adjustable head strap to keep the helmet on the wearer's head.
The helmet is light and compact, which increases comfort. The package contains five outer lenses, a helmet bag, and two inner goggles. Lithium batteries are solar-powered and have a lifespan of 3,000 hours. The product is guaranteed for three years. However, it is useful to handle the helmet with care, as it can be easily damaged.
Finally, we would recommend this product to home workers and professionals alike as it provides exceptional comfort and protection for everyone.
4. Esab SENTINEL A50 – Best Welding Helmet for the Price
The fourth is the Esab Sentinel A50, with its high-quality materials and premium properties. The nylon shell design can withstand substantial impacts, which improves durability.
HIGHT ACCURACY

It offers a perfect 3.93 x 2.36-inch viewing area, so the user can easily view the MIG welding procedure and sustain accuracy. Also, the shield is automatically darkened, so you don't have to turn the guard as much as possible. This control also has an operational color touch screen with eight memory settings that you can configure at any time to suit your needs and access. There is also a Shadow 4 gravel button that you can click to enable gravel mode.

COMFORTABILITY

The creators of the Esab Sentinel A50 have carefully considered the comfort of the user, as the helmet is set at 5 points so that you can adjust the helmet to your head. The shaft is in the center of the helmet and helps maintain balance while pulling the shield. Weight is also balanced with the helmet for comfort when welding.
It can also be simply attached to a helmet with a helmet adapter. It works with lithium batteries and solar cells, which saves costs and is respectful of the environment.

However, compared to other similar models, the Esab Sentinel A50 has been significantly improved to be a significant investment. Ultimately, this is MIG welding safety equipment suitable for enthusiasts and professionals, and you must try it.
5. Jackson Safety BH3 – Best Welding Helmet for the Money
Jackson Safety BH3 offers the ultimate in comfort and protection in an excellent design. This is the best zone for magnetic welding due to the variable color areas 9-13 that protect the wearer's eyes from sparks. With three domes, you can adjust the sensitivity, delay, and shade level on the helmet to suit your work needs. It is rated 1/1/1/1 for angle dependence, optical clarity, light transmission variations, and optical clarity that prevent blurring and distortion.
EXCEPTIONAL HEAD GEARS
Without a doubt, thanks to the snug fit with which the helmet sits precisely on your head, it is also very comfortable to wear. Jackson Safety is the outer tip of the BH3 that allows you to fit the helmet on your head. It has three adjustable gear functions that make it suitable for all types of welders. The helmet protects your face and your ears and neck from the sparks created during the MIG welding process.
DURABLE DESIGN
The curved design prevents mist and moisture from entering the helmet. It is made of lightweight plastic that is very durable and absorbs maximum shock. It also easily fits in helmets and magnifying filters.
However, all the premium features come at a significant price, making the helmet out of budget for people. Finally, we are satisfied with the quality and user-friendly features of the Jackson Safety BH3, making it without a doubt one of the best welding helmets for MIG welding.
6. Jackson Safety HSL100 Best light weight Welding Helmet – 4 sensor welding helmets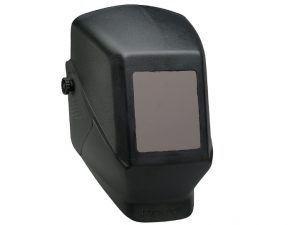 If you are on a budget, the Jackson Security HSL100 can give you the best features and maximum convenience at a reasonable price.
SHADE VARIABILITY
It is suitable for MIG welding on a wide range of shades from 9 to 13, along with auto-darkening effects that help protect your eyes from harmful light and sparks. The shades are controlled by four sensors that adjust the shade to operate.
WIDE VIEWING AREA
Moreover, it has a viewing area of ​​ 3.93 by 2.36 inches, which gives an expansive view of the welding process and saves you from the hassle of continually sliding your hood up and down.
ADJUSTABILITY
It has two modes: welding and grinding, to make it suitable for different processes. You can operate the digital controls to adjust the delay and sensitivity according to MIG welding needs. The Jackson Safety HSL100 has several functions to help improve comfort and balance.
The helmet has a sleek design that makes it suitable for use in tight spaces. This helmet is extremely lightweight, which, if valuable, plan to do a long shift.
However, this helmet has a little bit of neck coverage, so the neck itself could be exposed while wearing the helmet, which is a concern. We believe the Jackson Safety HSL100 has the best features for a reasonable price, and we would particularly recommend it to home welders.
The Optrel VegaView 2.5 is recognized for its comfort and optimal clarity. It offers perfect vision with a tint of 2.5, improving visibility through the lens by more than 400%. It contributes to achieving efficiency and precision in MIG welding.
MULTIPLE SHADE LEVELS
It has an auto-darkening effect and 8-12 shadow levels, which can be set manually depending on the operation. It also has a sharpening mode, as well as shadows and sensitivity controls.
FAST SWITICHING
The operator has the choice to set the delay for switching between colors using the opening delay function. The Optrel VegaView 2.5 has a unique sensor slide that prevents the ADF reaction and the surrounding welding arcs.
BROAD VIEWING AREA
The viewing area is approximately 3.93 by 2.36 inches and wide enough to ensure a clear, unobstructed view.Undoubdtly, Optrel VegaView 2.5 is the best affordable auto darkening welding helmet mig flux.
However, one of the lightest welding helmets is beneficial for long-time work and is one of the best welding helmets for MIG welding. The package includes a Park Buddy belt clip with which you can easily hold your helmet during a break.
DURABILITY
The E3000 air-purifying mask provides respiratory protection, so you don't feel suffocated. It is made of nylon, which is very durable and super light. However, this model is a bit pricy, so you may need to increase your budget, but one of the best welding helmets for MIG we recommend is the Optrel VegaView 2.5; it is the best welding helmet for welders who need optimal visibility.
If you've recently started welding and want to try something with useful features at a low price, the YESWELDER LYG-L500A is for you. It has a viewing area of ​​approximately 3.64 x 1.67 inches, which gives you a complete, clear view.
COLOR VARIABILITY SENSORS
Two high-quality sensors help to automatically change the color during work so that the hood no longer has to be pulled up and down.The optical clarity is set to 1/1/1/2, which reduces blurring.
QUICK SWITCHING
The transition time for switching the colors is less than 1/10000 seconds. It helps improve efficiency. The turning style of the YESWELDER LYG-L500A offers the user optimal comfort during MIG welding. YESWELDER LYG-L500A is the best rated auto mig welding helmet.
LIGHT WEIGHT
Nevertheless, it's lightweight and perfect for long MIG welding as a lightweight helmet will help you stay safe while being comfortable. It can also be super compatible with a magnifying glass and cheat lens. It also offers long battery life, so you don't have to change batteries often. It runs on readily available lithium batteries.
However, some users have complained about the sensors because they change color inconsistently during use, which can be a malfunction. The YESWELDER LYG-L500A is the best helmet for beginners and hobbyists as it allows you to get comparatively decent features at a great price.
Finally, in 9th place, we have the DEKOPRO welding helmet with its calm looking exterior and equally great features. It has auto blackout effects with a transition time of only 1/25000 of a second, which is super fast.
OPTICAL CLARITY
The optical clarity is 1/2/1/2, which is good for a clear vision. It's slowed down, as are the sensitivity settings, so that you can make changes based on the task at hand.
FASTEST SWITCHING TIME
DIN4 is the brightest filter in this helmet, and it only takes 0.1 to 1 second to switch from dark to light shade. The viewing area is approximately 3.62 "by 1.65," which allows for a comprehensive, clear view. Colors range from 9-13. It can be easily charged on solar cells, making it cheaper and more environmentally friendly.
EASILY ADJUSTABLE
Nonetheless, the helmet can be easily adjusted with adjustable knobs, depending on the user's head. It is also unique and the lightest helmets on the market, making MIG welding more comfortable.
The weight and pressure of the DEKOPRO welding helmet and the parameter that helps maintain balance are evenly distributed. All this gives you a very stylish look that will get you excited about work.
However, the viewing size is significantly smaller than other helmets on the market, affecting the user's vision. The DEKOPRO welding helmet is inexpensive and offers good properties for an efficient MIG welding process. We recommend it for beginners.
THINGS TO PAY ATTENTION WHILE BUYING THE WELDING HELMETS FOR MIG
There are several options when buying the best welding helmets for MIG. Some of these helmets have a similar appearance but differ in specifications and features. They also have different prices depending on the make and model. Below are some of the most important factors to consider when looking for the best welding helmets.
Viewing area
The bigger the screen, the more you can see, and the quality of your welding will improve. This is especially important if you are a novice welder as the whole work area makes it easy to complete your project. A large viewing window is also useful if you have a lot of off-position and strange angles. Some of the more advanced helmets also have side lenses, so you get 180-degree vision.
A typical viewing window for more unadorned helmets is about 6 inches and maybe nine or more square inches for helmets designed for heavier use. In general, a larger size is better, but consider your comfort, preferences, and welding that you are not going to weld in the right place. It's also worth noting that a larger display area usually adds more weight to the device, which is also an important feature to consider.
Auto-darkening
This is one of the essential features of today's welding helmets. Auto-darkening is your mask lens's ability to automatically detect the light generated during welding and adjust to block it. When you're done welding and the sparks stop, your lens will automatically return to its brightest setting so you can see without lifting your mask. Not every welding helmet on the market is equipped with this function, although all welding helmets included in our test list are automatically darkened.
Shade variability
If you need your mask in its lightest state so you can see while not actively welding, is your mask enough to work? If you are out in the bright sun and welding with high amperage, will your lens get dark enough to provide adequate protection? Flashing an electric arc is a gruesome experience that can also cause permanent damage. By purchasing a mask with a high degree of color variation on a high-quality lens, you can be sure to protect your eyes in even the brightest conditions.
Lens clarity
Besides your viewing window size, clarity is essential in how well you can see what you are working on. Lenses are tested in four areas, and each is rated 1-3, with 1/1/1/1 being a perfect score. Only a few premium welding helmets reach this highest degree of clarity. For example, the Lincoln 3350 welding helmet in our third place has perfect across the board.
Reliability
Reliability is one of the most important factors when choosing a welding helmet. It doesn't matter how comfortable the helmet is or how many handy gimmicks it has. If you can't rely on your helmet to protect your eyes, it won't do the job. In the worst case, this is a danger to your health.
Aside from the potential permanent risk your eyes are exposed to from welding failures from a defective mask, and an unreliable lens can also make it difficult to see your work. Flashing different colors and changing the color level can do more than distract. If you cannot see your welding correctly, you risk your fingers and hands.
Durability
Your welding helmet is an investment. It is a tool that you will hopefully use for many projects without any problems or will need to be replaced soon. Nothing is more disappointing than having your expensive device shut down at a critical moment. Save yourself the headache and heartache of leaving your things behind when you need them most. It will be there to serve you for a long time.
Grinding mode
Sometimes all you need is a mask to protect your face and not block out the light, e.g., B. if you use a grinder and it creates a lot of dust and flying debris. In such cases, you want to be able to keep your mask in the lowest position even in the presence of sparks or bright sunlight. For this purpose, many masks are equipped with a grinding mode.
This feature is still useful when you don't want to drag and want to see without continually lifting your mask. The grinding mode is activated on most helmets at the push of a button, so operation is easy without removing the hood. All welding helmets on this list have a grinding mode.
Comfort
It's something you may not notice right away, but after bending your neck for hours to see what you're working on, a heavy mask can feel like a small weight hanging on your head. This can lead to days of pain, making the entire experience much less pleasant. Besides, the way the headband on your mask conforms to your head can become uncomfortable after hours of use. If the headband doesn't stay in place, you may be making adjustments all the time. The masks in our top positions all have a snug fit so you can focus on your work instead of your mask.
Optical class
All lenses of the helmets with auto-dimming have been tested for quality control and have an optical class rating.
This refers to the clarity of the view through the glass. Auto-darkening lenses are available in 4 different brightness categories and are rated in numbers. This category of helmets is not much different from the 1/2/1/2, but a professional and experienced welder should be able to tell the difference quickly.
FAQs(Frequently asked questions):
How do I choose a Welding helmet?
The most important thing about the welding helmet is the material. The welding helmet is usually made of plastic and non-combustible material with a protected screen behind which the lens is located.
What are the best auto darkening welding helmets?
Are cheap welding helmets any good?
Yes, cheap welding helmets work well, but they are not durable.
Final Verdict
After we've provided you with a list of our nine best welding helmets for MIG welding, let's leave the choice up to you. When choosing, you need to consider your type of work, usage, and, most importantly, your budget.
We want to recommend you on your demand that the Lincoln Electric VIKING 3350 without thinking for a second is super adjustable and also offers a crystal clear view, which ensures optimal working conditions.
Among the various useful welding helmets of the series, Lincoln Electric VIKING 3350 is the best lincoln MIG welding helmet. If this isn't the option for you, then you can go over the other eight choices, evaluate the advantages and disadvantages, and make your choice. We hope you choose the best welding helmet for you!
Related Welding Reviews & Buyer's Guide:
SALARY OF UNDERWATER WELDERS (2021)
Best TIG Welder For Aluminum 2021
BEST WELDING HELMETS FOR MIG 2021
BEST BUDGET WELDING HELMETS UNDER $100
Best auto darkening welding helmet
Best Welding Helmets for Beginners 2021
TIG WELDING STAINLESS STEEL (2021)

Underwater Welding (2021) – How Does Underwater Welding Works?
How to Set up a Welding Rig Truck (2021)

ESAB SENTINEL A50 WELDING HELMET (2021)