Generally, welding positions are the angles at which metals are joined. They usually fall into four categories: horizontal, vertical, flat, and overhead.
Groove and fillet welds have become the most common type of weld. Welders can execute these two welds in any position. These two welds have special letter designations to distinguish between them.
F-weld (F) – F-welding can be used to weld two separate parts of metal straight up or at a slight angle.
Groove Welds (G)- Groove Welds (G) can be made in the groove if they can penetrate through the lower surface. This type of weld calls for full penetration to yield strong welds.
Grove and Fillet Welding Positions
In general, the following letters and numbers are used.
For groove welding positions
1G – (flat welding position)
2G – (horizontal welding position)
3G – (vertical welding position)
4G – (weld position above or above)
5G – (vertical uphill / downhill welding position)
6G / 6GR – (vertical top welding position)
For fillet weld positions
1F – (flat welding position)
2F – (horizontal welding position)
3F – (vertical welding position)
4F – (weld position above or above)
Types of welding positions according to AWS and ASME
1G / 1F
2F / 2G
3G uphill
3G downhill
4F / 4G
5G uphill
5G downhill
6G uphill
6G downhill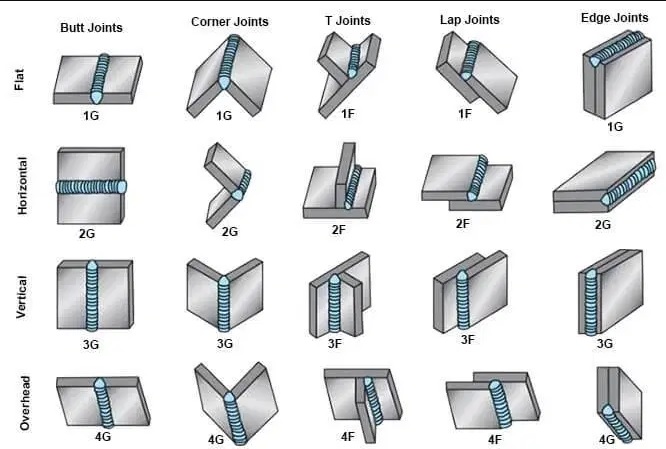 Pipe and Plate Weld Joint Positions
Each welding position corresponds to a particular number and letter, e.g., 1G, 2G, 3G, 4G, 5G, and 6G/6GR. They all are used for various angles and shapes while performing welding.
However, some differences in the names used by the ASME IX, AWS D1.1, and ISO 15614-1 in their Methods of welded metal fabrication refer to their respective welding standards.
1G/1F/PA Position (Flat)
One of the most commonly used flat weld positions is 1G/1F/PA. In this position, the welder places the metal piece directly below the torch. It is also used for undercut, groove, and fillet welds.
2G/PC Position (Horizontal)
For flat welding, the metal piece is in the horizontal position and remains parallel to the welder's torso as he welds it while he stands in front of the machine.
2F(2f)/PB Position (Horizontal)
Welders use the 2F/PB Position to make fillet welds. It's more complicated than welding one ft away because they tend to hold the torch at a 45° angle all the time, just the opposite of the 2F position.
The butt weld in the 2F/2f position may be somewhat more complicated than flat welding because the molten metal flows downward, and the torch is heated upward from the joint. Therefore, a uniform deposit is not possible at joints.
Generally, welders should align the metals and secure the joint at both ends. The torch movements should be slightly up and down to ensure even the joint components heating up.
In this way, the melted metal will not flow down the lower bar and solidify faster. It requires a lot of involvement in 2f or any horizontal positionm, 2f is one of the horizontal positions for the fillet test.
It is significant to note that the pipe axis should not be rotated or moved while welding when welding a pipe. There is also a horizontal fixed position.
Welders can also use a horizontally rolled welding position in which the pipe is spread out and welded in the required orientation. First, they need to align the joints and weld them. For gripping pipes, they can use steel bridge clamps when welding with a torch.
Among other welding positions, 2G, a horizontal welding position for groove welds that do not involve fillet welding, is another. In this position, the weld axis lies horizontally, and the weld faces the vertical plane.
3G Uphill/PF Position (Vertical)
Welds were cut from the bottom of the pipe utilizing a needle torch to maintain the angle at 45°; then, the torch was held at the angle, and the metal was welded.
3G Downhill/PG Position (Vertical)
For fillet welding, welders utilize the vertical-down position, placing metal on the bottom of the rod. This position increases productivity.
4G/PE Position (Overhead)
The position is used for overhead butt welds, and the welder wears the torch from underneath the metal piece. It's a challenging position typically, so the welder is required to make sure the temperatures are set correctly before welding.
4F/PD Position (Overhead)
In this position, the welder is usually held at a 45° angle while the torch is pointed downward at the metal piece. The position of the torch depends on the pipe or plate position.
5G Welding Positions-
Pipe welding is done in a 5G position in which the pipe axis does not turn or rotate horizontally. 5G stands for "groove welding" on the American Welding Society/American Society of Mechanical Engineer's standard; ISO/EN standard calls it PF.
5G Uphill Position (Vertical)
This position is suitable for hand-welding pipe butts and is the most common way of welding pipes. Welders follow three different welding procedures starting with overhead positions, then horizontal positions then the flat positions.
It isn't easy to turn a pipe in a 5G position because it is point-fixed. After all, the pipe cannot be rotated.
5G Downhill Position (Vertical)
The 5G position is used for ground welding of pipe butts. It is an excellent and productive method for welding pipes by hand in this position. In this position, welders must use appropriate and specific equipment for welding pipes against molten metal's gravity force.
By doing so, welders are more productive and produce better welding results. When welding 5G, welders travel through three stages, beginning at flat, then horizontal, and concluding with overhead.
6G Welding Positions-
Welders need to finish this position at a certain level of proficiency to obtain certification. It is similar to 5G/PH/PJ, except the pipe stands at a 45° angle. Other names for this position are 6G Uphill and 6G Downhill.
The 6G welding position is also commonly referred to as overhead welding and welder certification test position because one part of the pipe must be positioned at a 45-degree angle from the other.
Welders have to hold themselves in so many different positions while wringing that it becomes the most complex and challenging position for them.
Welding with 6G mainly involves three types of welds, i.e., horizontal (brutal), flat (easy), and vertical (demanding). The leading cause of difficulty lies in filling metal downwards.
In a vertical position, it becomes more challenging for welders since it is an upright position. Therefore, a welder needs to get very good at welding in a 6G position before actually welding apart.
In their employment in industry, a certified welder faces a 6G test quite rarely, yet it is usually an integral part of the pre-employment process for them.
Fabrication or installation of pipe and pipelines most often takes place with a tack weld position commonly used in chemical plants, oil refineries, industrial plants, and any other similar businesses that use pipe and pipelines.
6GR Test
Another form of a 6G test, defined by the letter R. It states that the weld must be performed in a ring configuration. In other words, an inch gap must be maintained on the hot surface of the weld.
This presents another challenge for welders to fulfill in the certification process. In this certification, welders have to perform close welding to impediments like brackets, walls, and pipe attachments to another structure.
Conclusion
Consequently, students, welders, educators, and other professionals can benefit from information about welding positions such as 1G, 2G, 3G, 4G, 5G, and 6G/6GR.
There are several positions within the certification process for welders. Both fillet welds and groove welds are tested for positions starting from 1G to 6G.
THE TEAM THAT WORKED ON THIS REVIEW
I am a seasoned welder, with over a decade of experience in the trade. But my talents don't end there—I've also ventured into the realm of web design and blogging. As a multifaceted individual, I conduct thorough product reviews and share insightful blogs on all aspects of the welding trade.
Join me as I delve into the advantages and challenges of being a welder, illuminating the path for both enthusiasts and professionals alike.