What is the meaning of Coded Welder?
The coded Welder is one that has taken a certification examination demonstrating certification in a particular welding technique (Welder Approval Test). Every welding process is unique to each job, but some codes are more general, and others are very specific.
There are two types of welder approval codes in the UK and the USA. In the UK, welder approval codes are prepared according to BS EN standards, whereas in the USA, they are done according to ASME VIII regulations.
The Welder usually qualifies in a precise specification to be a coded welder because welding specifications usually are integral to a specific metalwork application. This implies that the Welder will provide a sample that reflects that particular work as thoroughly as possible.
Upon receiving this, the Welder will then undergo an approved test to determine if he or she is competent to carry out the job. If the test is passed, the Welder will be considered coded to the exact specifications.
You are now coded or qualified to weld on one specification, but this does not mean you are qualified or coded on another. In order to become a multi-coded welder, you need to pass separate tests or exams for each type of welding.
Some employers do ask to see credentials before hiring a welder, but this isn't the norm in the welding industry. Typically, tradespeople are expected to have at least one recognition and certification of proficiency in their trade.
A test known as 'coding' is usually performed on welders in order to determine whether or not a specific code is required to be a certified welder. Once passing that test, they refer to themselves as a 'coded welder.'
The TWI usually approves training centers offering certification for coded welding procedures. This includes testing for pressure vessels, pressure pipework, and other critical applications, such as bridges and structural steelwork.
What Are Welding Codes?
The welding process has existed for the past century and has been proving to be quite effective. Moreover, there is evidence that indicates that metals can be joined in composites as early as the late 15th century.
Due to the expanding complexity in welding procedures, guidelines and codes are now needed more than ever to govern the industry properly.
The safety of the welders themselves as they perform their duties and the safety of the people using the items they have welded is clearly an important issue. This certainly includes their safety and the safety of the people who will be using the items they weld.
The American Welding Society, which was organized in 1919, and the American Society of Mechanical Engineers (ASME), established in 1880, are two of these codes' most well-known sources.
During these decades, the five or six groups have created a large number of guidelines, codes, and standards to act as a regulatory force. There are more than 240 codes within AWS alone.
There are many codes for work done by welders, and there are other codes specific to the joint type, materials, and procedures. Some of the most common types of welding include MIG, TIG, and stick.
Some codes influence the welding procedures depending on the materials and thickness of the weld joints that are used. In addition, there are codes specific to specific industries requiring the welds to be performed.
Welders and the welds they make should be certified according to specific codes, and these codes differ significantly from country to country.
The following factors are taken into consideration with welding codes:
Essential variables. This is a requirement, and if it isn't followed, it may lead to a weld not being up to code.
Non-essential variables. There are less stringent requirements, but they won't affect the weld's mechanical properties.
Auxiliary variables. It depends on how well they are tested whether they will have any noticeable effect on a weld's mechanical properties.
Welding Code Specification
A person's welding ability to perform welding is determined by BS EN ISO 9606-1, which determines the abilities of coded welders to complete work in those fields. The qualification test is used to examine the Welder's abilities to use codes to certain welding specifications.
The Welder usually provides a welding sample that is very similar to the job to be performed. This sample is examined by an approved examiner, who then approves the coded Welder for that job. If that means passing, the Welder is then coded for that specific job.
Remember that being qualified to a certain standard does not mean you will qualify to other specifications, even if you have been certified in one of them. Therefore, you must demonstrate your abilities to weld in other standards through the same level of testing.
How do coded welders differ from certified welders?
Generally speaking, the difference between a certified welder and a coded welder demonstrates their proficiency over specific welding methods. A certified welder can produce credentials, whereas a coded welder has demonstrated their skills by passing practical tests.
Despite their distinct definitions, these terms are sometimes used interchangeably, whether correctly or not. If you're a welder seeking new employment and ask for a 'certified welder,' it might be worth asking what standard?
A code qualification is a certain kind of qualification, such as a code qualification in welding. A certification demonstrating theoretical knowledge and demonstration of an individual's welding abilities is something completely different.
Becoming a Coded Welder
You may need to become a coded welder to perform a specific job, or you may choose to achieve this certification in order to become more successful in your career.
Coded welders are typically trained through a combination of classroom training and on-the-job training after passing the test for the specific code.
A high school diploma or GED is the basic educational requirement to become a welder, although a specific job may require additional coded welder courses. College degrees may not be required, but there are welding programs at some community colleges.
As an apprentice, a welder will have the opportunity to gain knowledge, skills, and abilities on the job while also tailoring their education to meet the company's specific requirements.
How Are Qualifications Tracked?
The three main forms used when it comes to tracking qualifications for welding codes are:
Welding Procedure Specification (WPS). Documents like this give details regarding the approved procedure for weld repairs. It gives precise details of which types of welds and which types of materials should be welded.
Procedure Qualification Record (PQR). These records document the data that was used in the development of the WPS.
Welder Performance Qualification (WPQ). These certifications indicate what the Welder has accomplished and what they are qualified to handle.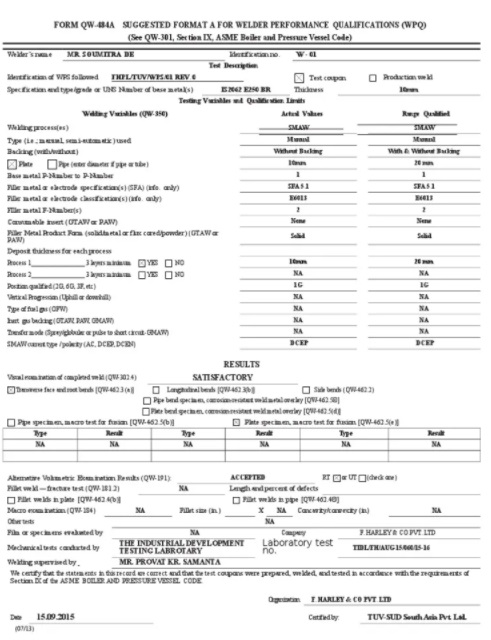 The following steps are necessary to pass the test:
Find a copy of the Workplace Performance Standards (WPS) for the code you want to earn your certification for.
Please get familiar with it and practice that specific weld.
A test with an inspector certified in welding should be scheduled as soon as possible.
Usually, this test involves a written section as well as a hands-on demonstration of competence.
You will become certified to use that code for performing welding jobs once you've passed the test. This is useful when progressively more specialized codes require coded welders for certain jobs.
How Can I Prepare for Coded Welder Test?
If you are one of those who don't do well on tests, there are many places to train for welding tests. You can find practice tests here.
You can check out Proprofs.com as well. If you pass these tests, you should be good to go. If not, you have other options. Those sites, as well as others, sell testing materials.
Coded Welder Course
The Coded Welder Course is tailored specifically for each individual, enabling them to develop the skills necessary to carry out welding roles competently. The training is designed to meet all the individual's needs.
Coded Welder Course training is available at beginner to advanced levels according to experience level. Coded welder training helps identify weaknesses in a candidate's technique and will provide a practical correction to those weaknesses.
Coded Welder Course is provided by a TWI accredited welding tutor and examiner; these tutors and examiners are also CSWIP approved welding inspectors. These instructors and examiners hold the necessary registrations for welding, witnessing, and permanent joining.
An institute assesses the candidate's current skills level to determine which level is required to attain a particular desired test standard. This helps them to estimate the timescale within which the candidate can reach the desired skill level.
Testing a welder is an expensive procedure; therefore, they only submit welders for testing once they are confident that the welder has accomplished the required standard.
Coded Welder Salary
How much does a Coded Welder make in the United States?
In the United States, the average Coded Welder salary is $42,792 per year.
Salary estimates are based on 8,714 salaries submitted anonymously to a coded welder jobs platform by Coded Welder employees.
You're viewing live statistics for Coded welder job openings of over 1 million jobs. Here's a few facts about the industry:
A Coded welder's average salary is 33,359. This is 11.2% below the average advertised national salary of $36,448.
Coded Welder Jobs
The majority of Coded welding job ads are from Engineering firms and trade and construction firms. Jobs for Coded welders are mostly available at Workforce, Wood and SWGR.
Welders have seen their annual compensation go down by 1.1% year-on-year compared to a 5.1% increase for all jobs.
At the same time, the number of Job vacancies for Coded welders is up by 119.0%, with 138 open positions currently.
What other similar jobs are there to Coded Welder jobs?
Besides Coding Welding jobs, you can also find Welder, Welding, and Work At Home jobs, and there are so many more.
Conclusion
The difficulty of welding codes varies by the amount they cover, but knowing the various kinds of codes can lead to success in your welding career. The more welding codes you know, the better skilled you will become as a welder.
Related Posts:
THE TEAM THAT WORKED ON THIS REVIEW
I am a seasoned welder, with over a decade of experience in the trade. But my talents don't end there—I've also ventured into the realm of web design and blogging. As a multifaceted individual, I conduct thorough product reviews and share insightful blogs on all aspects of the welding trade.
Join me as I delve into the advantages and challenges of being a welder, illuminating the path for both enthusiasts and professionals alike.