Everlast PowerPro 164Si 160Amp TIG Stick Pulse 40Amp Plasma Cutter 110v/220v
New Digitally Controlled IGBT Inverter
Generous 60% Duty Cycle in TIG mode at full power
Simple 2 position pulse allows you to select 1 Hz or 25 Hz for improved weld appearance and arc focus
Ideal for portable repair or farm / light shop use
weld up to 1/4″ on single pass and 3/8″ on multi pass; and cut up to 5/8″ on plasma cutter
Everlast Power Equipment PowerTIG 200DV 200amp 110/220 Dual Voltage PULSE ACDC Welder
120V/240V Dual Voltage input
Color coded controls are easy to identify and understand
Arc force control (DIG) for stick helps to reduce spatter and improve arc performance
Low as 5 Amp start for TIG in DC/ 20 Amp in AC.
240V Outlet in rear for optional WC 300 water cooler
2021 PowerArc 210STL Stick Lift TIG IGBT Inverter Welder E6010 Capable 110/220 Dual Voltage
Stable, Smooth DC ARC for best Stick/TIG welds; Built-in Lift TIG and Live Lift
E6010 setting for better E6010 and cellulosic rod performance
VRD and Anti-Stick feature for Stick welding
Digital control for precise setting and control of parameters
Pedal / 2T / 4T Control for use with optional TIG accessories
Everlast welders are very popular, and you can find them in a variety of stores.
They are a great choice for a variety of home projects and small repairs around the house because they are affordable, easy to use, and easy to maintain.
Learn more about Everlast's top-notch welders, their features, and their performance.
I hope the reviews will help you find the device that is just right for you.
Everlast Welder Reviews Budget & Pro Models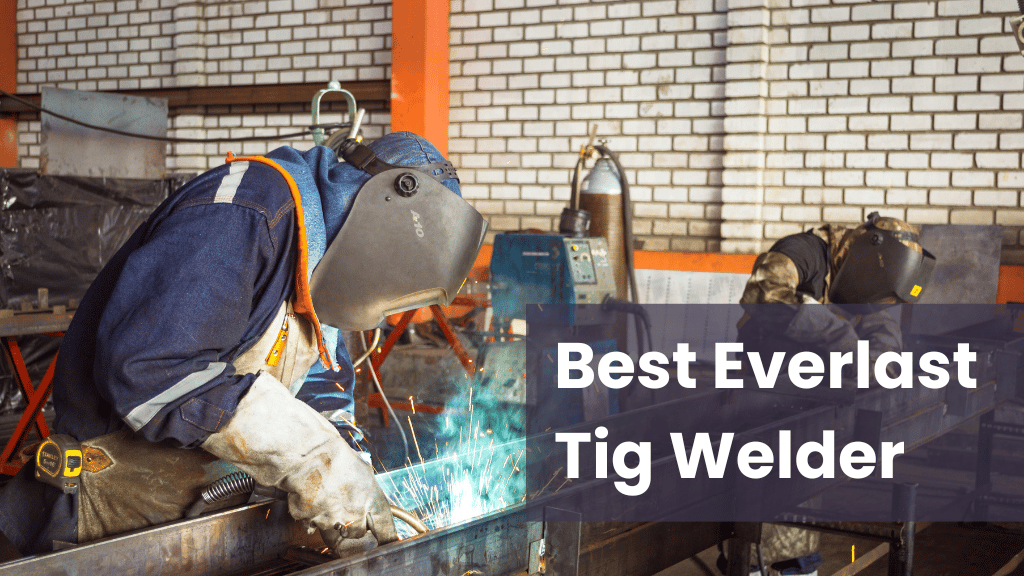 Let's find out thest best everlast tig welders;
Are the welders able to weld the fragile cut metals? Are you looking for a tig welder on a budget? Well, we have you both.
The Everlast PowerTig can be your best welding partner at an extremely affordable price. With this tig welder, you can select the pulses between 1 and 50 with two settings.
It has two pre-programmed settings so that you can choose between one pulse per second and 50. The device also has a stick welding function.
The welder is equipped with a compact digital inverter. This is a complex silicon-based technology that is small and compact and therefore reduces the machine's weight. It also creates a smooth arc to work with.
Comparing this welder to comparable products from other manufacturers has a much better duty cycle and adjustment range. It is possible to make a ¼ "weld on a single pass alloy and 5/8" on single pass steel.
The dual voltage makes it easy to use this device in different locations – all you need is a socket, and you're good to go!
To use the PowerTIG 185 as a portable device, you need a generator that has been specified by the manufacturer as "Clean Power." The generator must also be able to deliver a continuous output of at least 5000 W.
Relevant Read : SALARY OF UNDERWATER WELDERS (2023)
EVERLAST 200 – POWER TIG PULSE WELDING MACHINE
This has to be on the list of the best TIG welders of all time as it has some quality features and remarkable technologies that make it unique and in addition to all of the tig welders ever made by Everlast.
It comes with a dual-voltage function, is very practical, and can be operated with 120 volts or 220 volts, depending on your convenience and choice. The versatile welder is designed for welding too narrow joints. The welder is perfect as it is color-coded to identify what you need with fantastic ease.
Even if you don't need radio frequency, you are all good because you can improve this feature. It comes with several components, like the most efficient stick and a TIG holder.
Both elements are top-notch and have proven to be the best. Because you don't have a miserable experience, you need to put it to fair use. We strongly recommend that you use the arc force control function, as this avoids the splash caused by the stick.
It has the highest gas protection and pre-flow functions. With a wide range from 0.5 to 150 Hz, the pulse frequency range is more than perfect. The cleaning range varies between 30 and 70 percent. It works for several tasks like manufacturing, pipeline, maintenance, and repairs. So if you are an amateur looking for a TIG welder, they will work best for you.
Relevant Read : Top 10 Best TIG Welders
EVERLAST 250 AMPS MULTIFUNCTIONAL WELDER – Everlast 250ex review
Our third pick for the best Everlast TIG welder is worth this list as it has an extraordinary and unparalleled heart rate reading. The multifunctional welding machine can be used as a rod, TIG, or plasma cutter. The compact size is the most striking feature of this TIG welding machine. It is the perfect solution for those looking for a welder who can cut in addition to welding. The remarkable 250 amps current is achieved with both AC and DC.
Besides, an inverter's IGBT property is unique and tops the list for its incredible performance. According to research and field observations, electrode welding requires 200 amps, while plasma cutters only require 60 amps.
The 250 amps are given to ensure ultimate performance and high performance. It comes with high-quality, premium components that aid in cutting and welding. Also, it offers several advantages over other TIG welders.
The incredible full-bridge design and efficient shifting technology make it absolutely durable and great for work. The control panels improve readability. The HF design allows an even and perfect arc with even low currents.
With its multifunctionality and use as a cutter and welder, the machine is ideal for professionals who work on site. This is a full-time machine to work with. If you are a hobbyist or an expert, we would definitely recommend this great TIG welder from Everlast.
Relevant Read : Best TIG Welder For Aluminum
POWER TIG 255 " Best Everlast 255ext Welder for the money
If you are looking for a high-end TIG welder that offers many great features, we have something for you with the Everlast PowerTIG 255 EXT 2017. This new model for 2017 has so many features that you will have to spend some time on.
Read the manual to learn more about it and get the most from this machine. But it will be well invested!
The PowerTIG 255 EXT 2017 is a powerful machine that has proved very powerful indeed. Maybe not great for beginners, both due to the multifunction device's complexity and the higher price. However, this welder has a lot to offer for the professional.
One of the first things you will notice is the digital display. The Infineon microprocessor allows you to control both AC and DC welding precisely. It is also programmable.
This will enable you to save your most-used settings and save time later. This function is available in both embroidery and TIG mode.
The machine has a built-in fault diagnosis. You will be notified when a problem is detected. With the Everlast PowerTIG 255 EXT, you have four waveforms to choose from, giving you ultimate control. Choose from sine wave, extended square wave, soft square wave, and triangular sine wave.
Relevant Read : BEST WELDING HELMETS FOR MIG
If you are learning DC TIG welding and want to continue doing it on steel and aluminum, this is the product you should buy if you need a portable welder.
However, you still need some welding experience to operate this machine, so that this product is not suitable for someone new to welding.
This welder is an excellent product for those of you who need something for simple repairs and repairs.
This machine has legal settings to give you more flexibility in carrying out your TIG and rod welding projects. These settings also help reduce errors and potential errors while working.
There is a rotary knob on this machine that you can use to regulate the output at different levels. This is different from most welding machines, which have some pre-set settings to control performance.
However, this machine allows you to fine-tune the power level you need to get the exact arc you need. This will help improve the quality of your welds in general. With this machine, you get the IGBT inverter technology, which can generate a stable arc.
Relevant Read : BEST BUDGET WELDING HELMETS UNDER $100
The 2017 Everlast Power I-TIG 201 is an expanded version of the previous Power I-Tig 200. Although it has more powerful features and is much heavier, it retains the basic concepts of the Power I-Tig 200, so don't worry when you upgrade your computer to this one.
It is a perfect tool for manually setting welder parameters. It is recommended for both private and industrial use. If you are looking for a better replacement for your old welder, this is a great choice.
This IGBT welder is intended for professional use, especially for heavy arc welding. It can withstand heat when dealing with metalwork and other shopping tasks. It could handle this heat surge with the help of its low start function.
It is one of the first choices for many welding professionals and even beginners. The operation is simple, and it is an inexpensive TIG/stick welder for direct current only with excellent stroke and high-frequency start.
While maintaining the basic rules of the previous I-Tig 200, the Power I-Tig 201 has incorporated a micro-controlled inverter to make the design simpler but more reliable. The digital controls made it easy for the user to manipulate parameters during welding.
The prerequisite for using a generator should be a "clean output" of 4000 W at 120 V output or 8500 W at 240 V output. Remember, this welding model is never ideal for aluminum.
However, it is best used on titanium, steel, stainless steel, chrome-molybdenum steel (chrome-moly), and copper. This device is supplied with the standard accessories and connections for welding, e.g., B. 12-foot TIG welding torch and 10-foot welding torch.
Relevant Read : Best welding helmet
If you are looking for an affordable, energy-efficient, lightweight welding machine, I would recommend this PowerArc 140. It's pretty portable at just 24.8 pounds; You can do all of the welding repairs for your job and get almost the same performance compared to other expensive welding equipment on the market.
PowerArc 140 receives a current of 140 A with twice the voltage of 120 / 240V. It works with inert gas welding (SMAW) and with TIG welding or TIG.
The stroke starts setting refers to the immediate but steady response of the electrodes to the material you are working with to achieve a sudden stroke. This process draws the bow. The welder drops to a low voltage once the machine stays in contact with the material. With PowerArc 140, the lift starts especially for welding hard metals such as steel and stainless steel.
As a professional welder, you need to know what type of industrial welder will suit your projects and how long you will use him. Besides, the specifications are essential. Once you have chosen a welder, there is one to considerable attention to the work cycle.
Power Arc 140 has a duty cycle of 35%, which is the standard for most welding machines. You can weld continuously for a longer duration when the duty cycle is much higher. However, when the duty cycle is low, there is shorter welding time and more extended rest periods. There is an accurate digital display to check and adjust the current measurement to monitor the increase or decrease in current.
Relevant Read : Best auto darkening welding helmet
Despite one of the main drawbacks of this model, this model is still unique and has several advantages over other Everlast models. This has got to be the best TIG welder forever, considering how portable, easy to use, and straightforward.
It is suitable for beginners and amateurs. This lightweight model has two tensioning characteristics. It works with 110 and 220 volts according to your wishes.
Manufacturers have given due consideration that you may want one or two options. It works with AC and DC. This inverter welding machine has a stick in it.
This is done by updating the previous models from 2013. The LGBT Infineon technology is highly innovative and has been updated to provide the most advanced features and qualities.
It operates at an amperage of up to 200 amps and has a 60 percent duty cycle, which is relatively high and best for TIG welders.
The 30-day money-back guarantee shows how committed they are to making their products and how safe they are in making TIG. Also, the high-quality parts are integrated and embedded to ensure correct operation and perfect welding.
Relevant Read : MIG vs. TIG Welding
BEST EVERLAST TIG WELDER – BUYING GUIDE
How to choose the best TIG welder?
There are several models of TIG welders on the market. Each model is different from the other. To choose the best perfect TIG welder, there are certain aspects to consider. Below is a detailed buying guide to help you choose the most suitable option for your needs.
Input type
Since TIG welders are electrical machines, each machine has a defined input standard. First, you need to know what kind of input you can provide and then look at the machine's required input level.
Two different sockets are available on a TIG welder: AC and DC. Some TIG welders have both inlet options available, so you don't have to worry about the current type. If you are unsure of which input source is available on your end, consider getting a TIG welder that can support both.
For example, AC welding is suitable for soft metals with self-oxidizing properties such as aluminum and magnesium. DC welding is ideal for hard metals such as stainless steel, copper, and steel.
For models with an AC input, the current cycle alternates between the negative and positive half. In aluminum welding, oxides are cleaned during the AC cycle. In the negative phase, the penetration of base metal occurs. Simply put, the positive phase is for cleaning, and the negative step is for welding. So when analyzing input power, you need to consider the type of material you are welding.
Relevant Read : Types of Welding
Power input
If we talk about the input current's intensity, then on each machine, you will find a voltage rating that represents the electricity demand. As the voltage on the machine increases, so does the capacity. In simpler terms, you can weld various metals with a high-voltage machine. But you also need to consider the voltage available at the source in your workshop.
The source voltage must be greater than or equal to the TIG welder's nominal voltage to supply the welder with Power adequately. Therefore, before buying a TIG welding machine, you should consider the type of voltage and current.
Simply put, light TIG welders come with 110 to 150 volts, so they're only suitable for welding light materials. So do not use it for welding thick materials. Welders, who typically work at lower voltages, are ideal for home improvement projects and residential use.
They can be quickly supplied with electricity from the sockets in the house. If you don't know how much Power is required for your project, some welders can work on high and low voltage.
TIG welders need an ignition before they can start welding. Different types of ignition methods are required for other TIG welders. The most common ignition types are high-frequency start and stroke start.
Relevant Read : Â Best Welding Helmets for Beginners
Type of ignition
When starting the stroke, you must first contact the electrode and the metal to create the welding flame. Faulty welding can occur at the beginning if you first lift the primary workpiece. Or you always need a spare metal part to raise the weld.
On the other hand, high-frequency ignition makes for a much cleaner and faster ignition. There is no need to make metal contact with a high-frequency start.
As the name suggests, a high-frequency current is passed through the electrode initially, which causes the spark. This creates the welding flame and allows the welder to be used directly on the workpiece for better welding results.
Weight
This is another crucial factor in TIG welders. A TIG welding machine cannot always be kept stationary because the welding cable does not reach everywhere, especially if you are wielding a large, immobile job. In that case, the weight and form factor of the machine plays an important role.
If your TIG welder is relatively light and compact, you can quickly move it for many complicated jobs. A compact and lightweight TIG welder also has a relatively lower power. Consider using the TIG welding machine before making your choice and choosing the one that best suits your job.
Relevant Read : Â TIG WELDING STAINLESS STEEL (2023)
Digital control
Most welders are equipped with digital controls, making them easy to use and safe to use. Information such as voltage, Power, and others are displayed on the screen. With this information, a professional or a novice can safely perform the welding job. This makes welding more perfect and accurate.
The welder's safety features are also essential and probably often very useful. One of the safety features is thermal overload protection. If the welder works continuously for a while, it will overheat, which can damage it.
The thermal overload protection shuts down the welder when it overheats. This automatic safety feature dramatically simplifies the operation of the welder. Some of the TIG welders are also equipped with automatic high-temperature compensation.
High-quality arc
Cheap quality TIG welders have arc stability problems. When the welder's arc is unstable, it can cause various problems with the weld surface. This can be a huge problem, as most welders require high quality and a clean finish. Therefore, choose a TIG welding machine with a high arc quality.
Relevant Read : Best Stick Welders (Arc Welders) " Top Picks and Reviews
Pulsed welding
Pulse welding is usually useful for welding thin metal parts that can break with standard welders. They reduce the heat that hits the metal and prevent it from crumbling. However, TIG welders have a higher pulse power, resulting in a stronger weld and more control.
When using TIG for pulse welding, it is essential to monitor the welder's pulse. Older machines typically have 4,000 to 4,500 pulses per second. Higher vibration means a stronger weld, giving you more control over the weld pool. A higher pulsating focus means a narrowed arc and little heat.
Relevant Read :  BEST EVERLAST TIG WELDER – Reviews & Buyer Guide
Air cooler torch versus water cooler torch
Water-cooled or air coolers are some of the unique features of some TIG welders. They show how the welder cools down when it reaches a high temperature.
Air-cooled models usually use ambient air and get warm, which makes working in small spaces uncomfortable.
Extreme temperatures are very easy to tackle with a water-cooled TIG welding machine. They have a small head that can quickly get into tight spaces. People buying air-cooled welders wish they had invested in water-cooled models.
You can get by with an air-cooled flashlight, but sometimes you want to invest in a water-cooled flashlight. At higher Power, the torch heats up, and most welders will not be happy about that.
Although a water-cooled flashlight has a small head, it can perform more sufficient tasks in even tighter spaces. Most welders use water-cooled torches to avoid extreme heat while also cooling the air.
Budget
The price range of TIG welders can vary from a few hundred to tens of thousands. This usually depends on packages, equipment, features, and brands.
A range of $ 1000 is suitable for professional work, but for hobby welders, it is better to choose TIG welders under $ 500. For your information only, expensive models can be purchased if you work primarily with titanium metals.
Warranty
Last but not least, the warranty is one of the most important factors when buying a TIG welding machine. Most TIG welders have a 2 to 5-year warranty. With a more extended warranty period, the product is reliable.
Foot pedal
Reliable foot control is one of the most critical factors for suitable TIG welding. Projects requiring TIG welding are sometimes carried out in an awkward position that requires both hands – one for the burner and one for the filler bar. Typically, the pedals allow welders to control the heat so that the weld pool does not get too bulky.
Ideal foot pedals are usually at a natural angle to the floor, causing discomfort or pain in the foot. Also, check responsiveness and foot adjustment.
Portability
When you need to move the TIG welding machine from one place to another asset, portability is one of the most important factors to check. Small TIG welders typically weigh 40 to 50 pounds, making them easy to move. Larger TIG welders usually weigh about 100 pounds or more.
The only way to move them is to use a moving cart with wheels. Because smaller TIG welders weigh less, they are versatile and powerful enough to handle small welding jobs that typically do not have a longer duty cycle.
High-frequency settings
TIG welders with higher frequency settings can control the arc more quickly than those with lower settings. This factor is significant for the analysis of TIG welding.
Plasma cutter and rod welding
If you are looking for versatility and additional features, choose a TIG welding machine that can do both plasma cutting and bar welding. These features save you time on projects such as metal cutting. You can also expand the range of projects you can work on to work on anything with TIG stick capability.
Adjustment Settings
As with other electric welders, TIG welders allow you to control various aspects of welding. These preference settings should include precise control of many essential functions such as line frequency, amperage, pulse time, and so on.
By managing these settings according to your needs, you can ensure that you do not have problems welding different materials.
These settings can be displayed analogously with individual buttons with permanent markings above the buttons. You can also purchase a TIG welder with a digital display that shows these properties on a digital screen for better understanding.
In some dedicated TIG welders, you will also find the automation feature, which allows these options to be managed automatically based on your application. Such a function can reduce your workload while increasing your work speed.
Amp rating
When purchasing a TIG welding machine, it is essential to check the current range. It would be best if you chose a model that offers the greatest amperage.
Opting for a TIG welder with a lower current range can also limit your welding work. A vibrator with a range of 5 to 230 amps offers enough flexibility to weld thin materials such as over ¼ inch aluminum and 24 gauge stainless steel.
Aluminum usually requires higher amperage than stainless steel. If you choose a welder who cannot reach the 200 amp range, you will not be able to work on some welding tasks. So never buy them and never use these welding machines.
In addition to the wide current range, you must also consider the stability of the arc. This factor should be less than ten amps for easier start-up and better heat management. TIG welding is mainly used for welding thin materials. This means that when you start welding, you do not have a hot start or high frequency.
The thickness of the metal
If you are using delicate and thin metal, choose a model that performs very well at low currents. In fact, TIG is best for welding thinner metals. However, if you mainly work with metals that are ½ inch or thicker, we recommend bar welding or MIG.
TIG welding is mainly used for metals such as alloy steel, non-ferrous metals, stainless steel, magnesium, and copper. It can weld most metals, including titanium. Typically, TIG weld steel requires one amp per 0.001 inches of thickness. Based on this, we have provided common types of welds with metal thickness and the reinforcements needed for welding.
Duty Cycle
It shows how long the machine can work continuously. It is usually measured as a percentage of active time. If you use a welder for a long time, you may experience some side effects such as overcurrent, overheating, and incorrect output.
These issues can degrade performance and even damage the welder if you keep using it in the same way.
To solve this problem, each TIG welder is given a specific duty cycle that indicates how much the welder can run continuously. The standard-duty process for an electric welder is approximately 10 minutes.
However, you can get a higher duty cycle with some of the best TIG welders on the market. With a higher duty cycle, you can work longer without needing a break. That way, you can get the job done a lot faster.
The duty cycle is displayed in percent. For example, a TIG welder can be used with a TIG welder with a 30% duty cycle for 3 minutes each. After that, you need a cooling phase of 7 minutes. On the other hand, a 60% duty TIG welder can be used for about 6 minutes, while the cooldown time is about 4 minutes.
If you are using the welder for commercial purposes or heavy metalworking, you should choose DC machines. This shortens the time you have to wait for the welder to cool down.
If there is a regular surge of electricity in your location, it can shorten the duty cycle because the peak current input can increase motor overload.
Cheaper TIG welders have a duty cycle of 20%, which makes them suitable for light and soft metals. High-quality TIG welders have a duty cycle of 60%. However, they are expensive.
Best Everlast Tig Welder- FAQs
Is it okay to use my best everlast TIG welder to weld aluminum?
Because of its sensitivity, aluminum requires alternating current. So if you are using a TIG welding machine for aluminum, make sure it supports AC power.
What is the duty cycle, and how does it affect my welding work?
The duty cycle indicates how long the welder can be used continuously within a range of 10 minutes.
What size of the best Everlast TIG welder should I consider?
There is no universal answer to these questions. Every welder has a current working range. For lighter repairs on materials like stainless steel, aluminum, and steel, a 130 amp MIG or TIG unit with 130 amps and a duty cycle of 20% to 30% is a suitable option.
A TIG unit with at least 200 amps and a 40% duty cycle is suitable for heavy welding, repair, and manufacturing work. Make sure you have enough strength for proper penetration.
Think carefully about the application factors, analyze the welding process, and choose the right option for a profitable decision.
How to use my best Everlast TIG welder?
The use of a TIG welding machine differs depending on the voltage, material type, and amperage. Some welders can sense the tension phase and adjust the welding process accordingly. The amperage is usually set based on the DC you need to achieve. The welder works perfectly at low amperage when you continuously work on light metal.
Some packages usually contain a user manual that explains how to connect or use the device. When buying a TIG welding machine, it is imperative to consider expertise as some of these machines are very complicated to use.
Will my best everlast TIG welder comes with a welding stud and TIG welding option?
Most Everlast TIG welders come with both TIG and stick options. Some may not offer the full package. But they are compatible enough. Before that, you can just buy the stick option for a better experience.
After we review some of the best Everlast TIG welders, you should be able to choose the product that works best for you. All Everlast products come with extended warranties and a customer-friendly return policy.
CONCLUSION
When choosing the above products, we recommend considering factors such as your experience and the nature of the work.
If you are a hobbyist or do-it-yourselfer and want to do some necessary repairs at home, it is helpful to opt for cheaper Everlast welders with lower amperage. Portability is also another factor to consider when choosing the best Everlast TIG welder to meet your needs.
Go for quality welders with simple specifications if you plan to use your welding machine outside the workshop. Always check the features and accessories that come with Everlast products to avoid additional purchases as not all products are fully featured.
THE TEAM THAT WORKED ON THIS REVIEW
Hi, I'm Andrew Miller — a certified welding expert and instructor based in Long Island, NY.
With over three decades in the industry, I'm passionate about combining theoretical knowledge with hands-on experience to train the next generation of skilled welders.
I specialize in all forms of arc welding, including GMAW, GTAW, GMAW, FCAW & SAW. But my experience isn't limited to just those—I'm also knowledgeable in oxyfuel gas welding and plasma arc cutting.
My years as a welding inspector and supervisor have honed my ability to ensure the highest standards in welding quality and safety, making me adept at executing and overseeing complex welding operations.
You can find more information about me on my website, weldingzilla.com, or connect with me on LinkedIn.